This post may contain affiliate links. Please read my full disclosure policy here.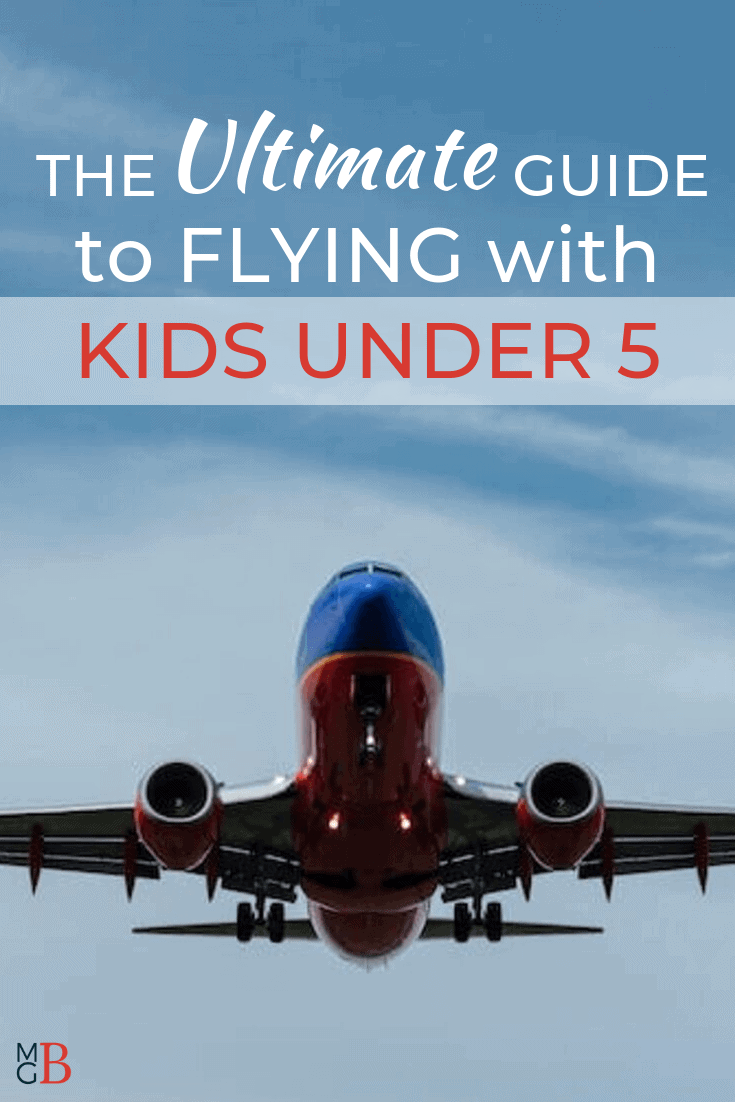 I'm on a lot of Mommy forums, and one question comes up again and again in some form or another:
"I'm flying to ____" with my kids next week. What do I do?"
See, we know that although we love our kids, they can be challenging. The thought of subjecting not only ourselves, but a bunch of complete strangers to their shenanigans while enclosed in a relatively small metal tube is anxiety-producing. The fact that there are horror stories all over the web doesn't help.
Then, we consider the fact that we need to schlep all their stuff along with us, and we truly start to get anxious.
With a little advance planning, though, flying with kids can be just fine. 
My family jumped into the whole "flying with a kiddo experience" with both feet when my oldest was 15 months old. Our first flight was from Washington D.C. to Pisa, Italy with a layover at Heathrow in London.
To save you from reading 100 blog posts on the subject like I did back in the day, I've summarized below every tip I can think of to make flying with a child under age five go more smoothly. Because it's such a mammoth post, feel free to use the Table of Contents to make navigation easier.
BEFORE YOU FLY WITH A CHILD UNDER 5
Book your flight
Which airline should you choose?
Some airlines are more child-friendly than others. Some count your breast pump as a medical device and not a carry-on. Others have bassinets that you can reserve for your baby or kid-friendly meals onboard. It's worth looking into the travel policies of any airline you plan to fly to make sure that the few dollars you save buying the cheapest flights are worth it.
Also check out your potential airline's website to familiarize yourself with their boarding process and their allowed number of pieces of luggage. The airline might have particular documents they like you to show. Typically, if you Google "Flying With Kids [name of airline]" you'll get the page you need.
What time should you fly?
If you're flying internationally, the best strategy is to book your flight to take off close to your child's bedtime. You've at least got a chance that they will sleep, and the atmosphere in the cabin will be relatively calm with dimmer lights.
Otherwise, you should fly as early in the day as possible, as this is your best chance to avoid delays.
Does your child need his own seat?
If your child is under age two airlines will allow him to ride without his own seat. Consider whether the savings is worth potentially having no place to put the child besides your own lap while you fly.
Where should you sit?
If you're flying with an infant, you'll want to see whether or not your airline offers bassinets for babies. You'll need to request this in advance but it might get the baby off of your lap for a minute. Note that babies have to be removed from bassinets every time the seat belt sign comes on, so it isn't quite as relaxing as it sounds. Bassinets can only fit in bulkhead rows, so you will want to select one of those seats in this case. Bulkhead rows are also nice if your baby is fussy and you need to stand and bounce him a bit.
Car seats need to be installed in a window seat, so you will want to choose a window if you're flying with the car seat. You might use the old trick of booking both the window and the aisle. If no one books the middle seat, you have extra room. If someone books it, they'll be happy to switch with you so you can sit next to your baby.
To choose the best seats for your group otherwise, use SeatGuru to see notes about the seats on your particular plane.
Get IDs and documents in order
Birth Certificate
A birth certificate is useful not only to prove the kid is yours, but also to establish his age. Although no one will likely ask to see it, this is a situation where it is much easier to be safe than sorry. As of now, TSA agents don't require official IDs for children when flying domestically. However, if you're traveling with a child on your lap (kids under 2 can fly for free this way) representatives of the airline might ask to see the birth certificate to prove the child's age.
Passport
If you're crossing international borders, you'll need a passport for your little one. Kid passports are good for five years. Give yourself plenty of time to get these as they take 4-6 weeks to be processed. There are lots of hoops to jump through when getting a child's passport, including establishing parental relationship and establishing consent of both parents. You'll want to make sure you dot your i's and cross your t's. The most current information on applying for a child's passport can be found here.
Child travel consent form
If one parent is traveling internationally alone with a child, you will want a Child Travel Consent form signed in the presence of a notary by the non-traveling parent. This isn't officially required, but it will help you avoid any delays at border crossings. A template for the form can be found here.
Decide if you need any new travel gear
Luggage
Make sure that your luggage is adequate to hold clothing for everyone. Can you manage what you are taking by yourself in case you don't find good any good samaritans to help? Does your luggage roll easily or fit on your back comfortably, depending on how you plan to carry it?
Is your carryon is large enough to hold all of the things that you'll need in the air, but light enough that you can lift it into the overhead bin yourself if you need to? Most of the time, you'll find lots of helpers, especially when they see you have kids with you, but you should be prepared to manage your luggage by yourself just in case. Currently, the maximum carry on size for most airlines is 9" x 14" x 22".
Car seats
Whether or not to take a car seat with you to your destination is a hotly contested topic. Here are three options to consider.
Option 1: Leave the seat at home
Children are not required to be secured in a car seat on an airplane. It makes them more likely to kick the back of the seat in front of them, and you will be unable to nurse any unweaned children on takeoff and landing if they are secured in a seat. They are undoubtedly safer secured in a car seat while traveling on the plane, though, should turbulence occur. You need to make the decision that makes you most comfortable. If you'd like your child to have more security while on the plane than a lap belt provides but you don't want to lug the car seat, consider a CARES harness.
Will you need a car seat at your destination? In many states/countries, children are not required to be in a car seat in an Uber or taxi, but they are certainly safer when they are secured properly. You'll need to check the laws at your destination to determine if you'll need a car seat for hired transport. Remember that you can request an Uber X with a car seat, although there's a $10 surcharge for the service.
If you are driving a rental car or borrowed car when you reach your destination, can you borrow a seat from a friend or family member, rent a seat from the car rental company, or rent a seat from a baby outfitting service? Will the seat that you're taking with you from home fit in the vehicle you'll use when you arrive?
Option 2: Take the seat and gate check it. If you choose this option, you'll want two things: an easy way to drag the seat through the airport, and a safe way to store it in the cargo hold. The VolkGo Durable Car Seat Travel Bag ticks both of these boxes.
If you're traveling with an infant under two whom you'd planned to carry in your lap, check when you get to the gate if there are any open seats on the plane before you gate check the infant seat. If there are seats available, airline personnel might give one to you for your baby to use in his car seat. If you're planning to try this, you'll want to check ahead of time to be sure that your seat is FAA compliant. The seat should have an FAA sticker on it, which you'll likely need to show the flight attendants before you install.
Option 3: Carry your seat on the plane so that your little one has a safe place to sit. You will need to make sure that your seat from home will fit properly in the seat and that it is FAA compliant. If you're attempting this option, you might like the Go-Go Babyz Travelmate Car Seat Travel Stroller, which allows you to push the seat like a stroller or the Go-Go Babyz Travelmate Car Seat Luggage Strap, which attaches your car seat to your rolling luggage.
Strollers
Consider your destination when choosing which stroller you will take. Tiny umbrella strollers or snap-and-go ones that accommodate an infant car seat work really well in the airport, but can be inadequate rolling across cobblestones in Europe. Giant strollers might not fit easily into rental cars, especially alongside all your other luggage. If you're visiting a rural destination, you might prefer not to have a stroller at all. We LOVED our Kelty stroller backpack while traveling in Italy, but unfortunately, they are no longer in production.
Understand that your stroller will likely have to be gate checked. As with the car seat, a storage bag is useful for protecting your stroller in the hold. One friend of mine had a nightmare situation when she was traveling alone with her 7-month-old and her stroller was returned to her at the gate. Minus a wheel.
At the very minimum, remove accessories such as the cup holder and make sure the stroller is snapped closed or secured with a luggage strap before you check it.
Packing Considerations
You don't need as much as you think you do
As was the case when you traveled without kids, you don't need nearly as much stuff as you think you do. Remember that no matter where you're traveling, people are likely raising kids there, so you will typically be able to find things like diapers and wipes at your destination. If your children have products (specific diapers, wipes, or baby food, for instance) that your family absolutely can't live without, consider placing an Amazon order to be delivered to your lodging the day after your arrival. This is far superior to attempting to schlep 10-day's worth of diapers in your overloaded suitcase.
When choosing lodging, I opt for a place with a washing machine or a laundromat close by, and I plan to wash clothes during my trip. This way, I can bring clothes for half of the days (plus a day or two for flexibility) and save myself lugging a giant case. Even with my spartan packing guidelines, I'd still bring at least one outfit a day for babies, young toddlers, and those who are potty training.
What to include in your carryon
Your carryon for the plane should include:
A change of clothes for each member of the family. You don't want anyone to be stuck in an outfit that has been barfed on, peed on, or had juice spilled on it. For babies, consider separates with long sleeves and feet. (You don't want socks that the infant can kick off, but full pajamas are tricky if you have to change a diaper during the flight.)
Snacks. You never know what could happen in terms of delays or the service in flight. You don't want to be stuck on the airplane with a family that is cranky just because everyone's hungry.
Ziplock bags. These can hold ice to keep your breast milk cold, the shirt that your baby spit up on, or the snack that your kid didn't finish in the restaurant during that delay in the airport. Don't leave home without them.
Clorox wipes. You'll probably want to give a good wipe down of the seat area, especially if your kids are still at the age where everything goes in their mouths.
Consider a tablet to entertain the kids. You'll want some headphones that are specially designed for children. They are smaller and have extra volume control. Remember that PBS Kids, Amazon Prime, Hulu, Netflix, and others work offline now. Download a cache of shows that your kid loves before you fly.
Pack a stash of small toys (especially ones from someplace like the Dollar Store that you won't mind losing in the airport or under the airplane seat. Some that my family loves have included:

finger puppets
Post-It notes
small cars (especially with washi road tape)
Colorforms, touch and feel board books
Slinkies
pipe cleaners
sticker books
Water Wow Books from Melissa and Doug.

Consider individually wrapping the toys to get yourself a little more mileage and excitement out of each one.
Your breast pump if you are traveling with one. Many airlines count this as a medical device and won't add it into your number of carryons. Triple check before you leave that you have all the pieces.
Consider taking a My Brest Friend or Boppy pillow if you use one at home and are planning to have your child in your arms on the flight. They're bulky to carry, but you both might be more comfortable.
A Final Note Before You Go
Check in for your flight online 24 hours in advance, and pre-print (or load onto your smartphone) your boarding passes
AT THE AIRPORT WITH A CHILD UNDER 5
Utilize curbside checkin
Your family right now is basically the reason curbside checkin was invented. You definitely don't want to be dragging that suitcase around when your toddler darts towards airport security.
Don't stress out about going through airport security
You can read the TSA's special procedures for traveling with children here. Here are a few highlights:
Children under 12 do not have to remove hats, shoes, or jackets.
Wear your baby if you've got one: infants do not need to be taken out of their slings as you walk through security.
If you're traveling with milk or juice for babies or toddlers, it is not subject to the 3-1-1 rule that limits the quantity of liquids that you carry onboard the plane.
If you're traveling with a breast pump/breast milk/formula, any ice packs should, ideally, be frozen solid. If they are slushy and get confiscated, fill one of your Ziplock bags with ice to keep your milk cold. Take your milk and pump out of any larger bag before you put it on the conveyor belt at security, and tell the agents what it is. Your milk will likely have to go through special screening.
Allow plenty of extra time at the airport
The general rule of thumb is to arrive two hours before a domestic flight and three hours before an international one. This rule is for carefree people that are not going through the airport with tiny humans. You might want to pad this in case you need extra time when your toddler lies on the floor and decides not to walk another step. You might need time to stop and watch the lights change. You might need time to explain to the TSA agent that the giant piece of electronics you just put on the conveyor belt is for attaching to your breast to extract milk. Your first trip to the airport with the kiddos is stressful enough without adding in the potential that you'll miss your flight. Get there early.
How to handle too much extra time at the airport
Ok, so now you might have gotten to the airport too early. Realize that you will likely be able to occupy a bit of time just looking out the window at the planes. We've forgotten how amazing flight is, but the kids aren't jaded yet.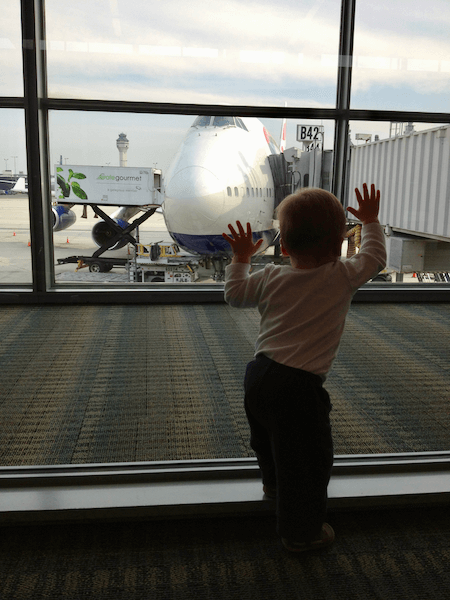 You'll also likely be able to kill some time riding the moving walkway and the escalators. (Obviously try to find ones in areas of the airport with less traffic).
Many airports are well set-up for kids with playgrounds and cool things to see.  You might research your airport beforehand to know what your options are just in case.
My number one favorite thing to do with my boys, though? Take them to an empty gate (there is almost always a completely empty area not far from where we need to be) and let them race each other, play Simon Says, do the Hokey Pokey, etc. This keeps them busy and gets their wiggles out, too. On our way to Orlando for our Disney Cruise, our flight was delayed about four hours, and I'm pretty sure the boys didn't even notice because they were having so much fun in the airport.
Use gate check
As I mentioned above when talking about car seats and strollers, most airlines allow you to gate check one stroller and one car seat per paying customer. This way, you can keep these vital items with you until the last second and get them back right after you get off the plane.
Consider whether you want to preboard
Preboarding is useful to give you a minute to set up all your stuff without inconveniencing other travelers, but it does require that your kids spend even more time on the plane. If there is more than one adult traveling in your party, consider sending one adult on the plane at preboard time with your hand luggage, car seat, etc., while the other adult stays in the gate area with the children. This way, you get the best of both worlds.
If you're planning to carry a car seat on with you, you'll want to preboard to install it. As a side note, ask for a belt extender for installation because otherwise when it is all tightened, the buckle release ends up on the inside of the carseat and is difficult to unlatch and loosen!
Prepare for the bathroom situation
Just before you board, change your baby into an overnight diaper and slather her with diaper rash cream. Diaper-changing facilities might be available onboard, but depending on turbulence, napping, etc., you might not have a good chance to use them.
Make sure everyone who is able tries to use the potty. Consider putting Pull-Ups on newly potty-trained children just in case. I have vivid memories of sprinting down the aisle of the plane to run for the airplane bathroom after my 3-year-old child realized he had to pee seconds after the "fasten seatbelt sign" had come on for landing. The little trooper did manage to hold it, but I was glad I had a Pull-Up on him just in case
ON THE PLANE WITH A CHILD UNDER 5
How to entertain your kids while in the seat
Alright, this is probably the reason you are reading this post. In my mommy forums, the question "what the heck do I do with my child on the flight?" gets asked all the time. Don't forget that for any child above infant age, the plane itself is a novelty. Sure, we're bored with speeding through the air at 35,000 feet while watching a movie, but they aren't.
Hopefully, you planned ahead while packing and have a nice collection of toys and snacks to introduce onboard, but don't discount how much fun something like Peek-a-Boo, I Spy or 20 Questions can be, even when you don't have a single toy on hand.  You can also ask the flight attendant for a few plastic cups to stack, look for landmarks out the window, or take a walk down the airplane aisle.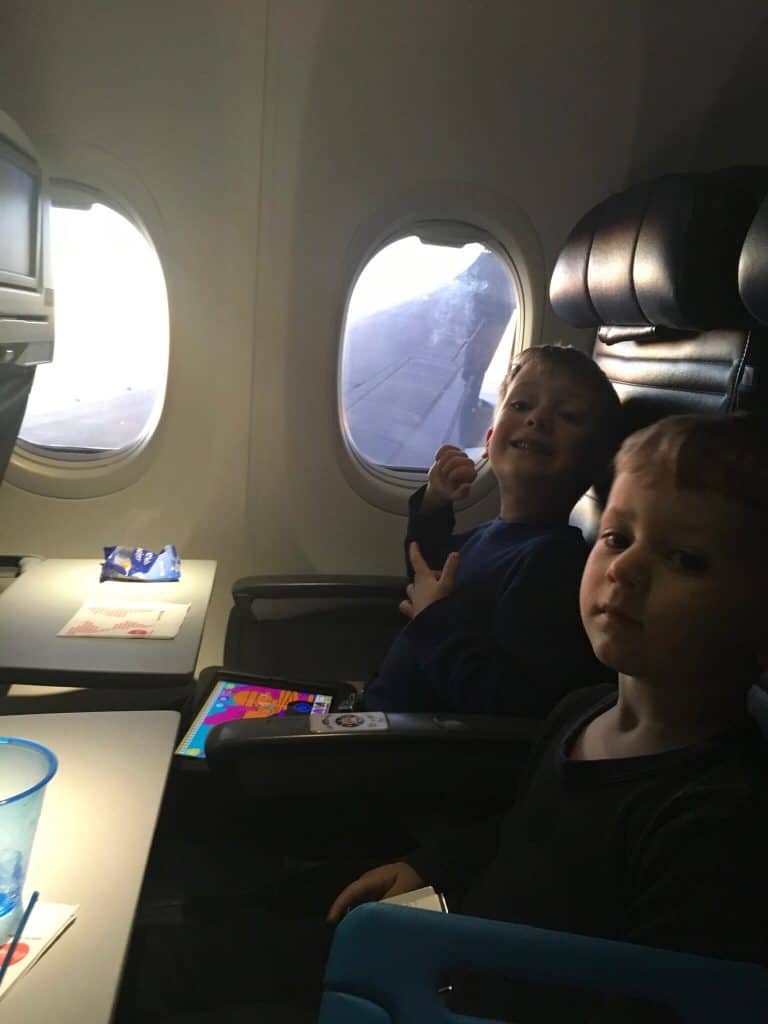 Check out perks for first time flyers
Often, airlines will give a certificate, a "wings" pin, a sticker, or something else fun for a child's first flight. Although cockpit visits are much more infrequent since September 11, you might be able to peek in after the flight. Talk to your flight attendant about it.
How to handle ear pressure changes
To help breastfed babies with pressure changes, breastfeed on takeoff and landing. If you're on a short flight and will only nurse once, you'll want to nurse on the descent. Infants could certainly take a bottle instead or suck on a pacifier.
Toddlers and school age children will also want something that encourages them to swallow. Consider bringing along a straw cup or a fun twisty straw to help their ears pop when they're drinking. Pack little snacks like goldfish crackers or Cheerios as well as chewy things like dried mango. (I have even heard of brave parents giving their kids gummy bears or lolipops, but mine wouldn't handle sugar well when strapped in a seat).
How to handle bathroom breaks and diaper changes
As I said, make sure you've changed diapers and donned Pull-Ups just before you board as you can't always go to the bathroom on your schedule on a plane. If you're traveling aboard a domestic flight with no changing table in the bathroom, ask the flight attendant if you can change your baby on the galley floor. You might also be able to change him on the closed toilet seat in the bathroom or on your lap. (This should be a last resort, but sometimes you gotta do what you gotta do). If you're traveling alone with an infant and you need to go to the bathroom yourself, plan to wear your baby there.
AFTER YOU ARRIVE AT YOUR DESTINATION WITH A CHILD UNDER 5
Dealing with jet lag
If you're flying internationally, you will have to deal with jet lag when you arrive. To minimize its effects, do your best to slowly adjust your family's schedule by a bit each day before you leave. Once you arrive, make sure that your kiddo gets lots of time playing outside (sunlight helps to reset our internal clocks). Also, plan to take the schedule pretty easy for the first few days. You might have been able to hit the ground sightseeing before kids, but you do not want to be stuck out in the world with a jet-lagged child if you can help it.
There you have it—every tip I can think of for flying with children under age five except for the very most important one: keep a positive mindset. Like most things in life, if you assume things will be ok, roll with the punches when they occur, and keep smiling, things go better. I researched my first transatlantic flight with a toddler to death, and I agonized about all the things that could go wrong. In the end, I found people to be helpful and the experience to be much easier than I expected.
And if things go really off the rails, have a little bottle of airplane wine and remember that you're not likely to see these people again anyway.
Got More Time to Read? You might also like:
Liked this post? Pin it for later!