This post may contain affiliate links. Please read my full disclosure policy here.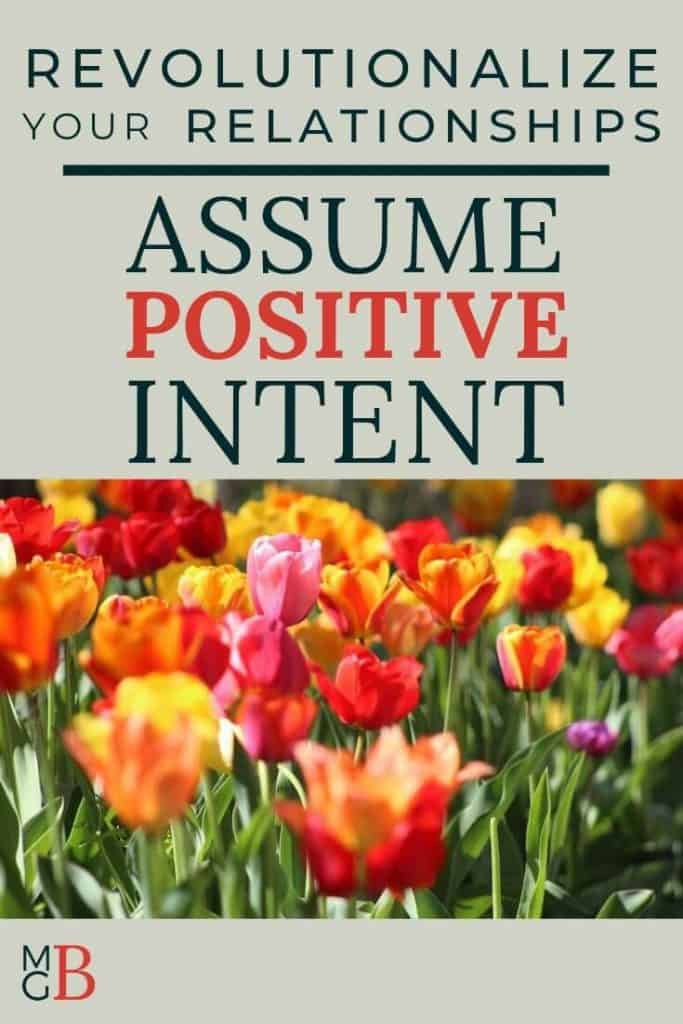 Do you ever find that life lessons seem to come around and nudge you over and over until you want to yell "alright—I get it!" That's been the case lately for me and a little mental shift I've been attempting to make. It keeps coming up in conversations with friends and family and showing up while I'm browsing online.
At the risk of sounding dramatic, this tiny little shift in perception might just change the way you feel about everything. It has the power to change your negative interactions into positive ones and make your personal and professional relationships happier. The trick? Assuming positive intent.
WHAT DOES IT MEAN TO ASSUME POSITIVE INTENT?
Assuming positive intent means that, no matter what a person may say, unless you have evidence otherwise, you assume that the person you're dealing with has good intentions. I don't know about you, but I can often demonize people, both strangers and people I love. My inner monologue will run off after a simple, harmless comment, and I'll assume someone tried to hurt me on purpose with zero evidence to support that fact. A recent Facebook interaction started me thinking in a new direction.
REMEMBERING THAT TIME I UNINTENTIONALLY ACTED LIKE A JERK
On a Facebook forum for moms recently, one woman was lamenting the fact that she was often asked if she was pregnant when she wasn't. The women in the group (rightly) jumped in to build her up, but the conversation quickly took a turn. The unassuming strangers who had made this mistake were referred to as dumb, insensitive, rude, cruel, etc. I had to take up for the other side, because once and only once, I was the jerk who made this mistake.
At a wedding full of strangers, I was stuck alone at a table with a woman in an empire-waist dress. I had overheard someone at the rehearsal dinner the night before talking about how excited they were when they found out this woman was having twins. I wanted to make small talk and give her a chance to talk about herself. So I said, "I heard you're having twins—how exciting!" Her response, "I had them a month ago. I'm just still fat."
I felt horrible. I'm sure she felt horrible. I made a mistake, but I wasn't being dumb, insensitive, rude, or cruel. I was trying to be kind and make conversation on a topic I thought would be interesting to her. I told the story to the women in the group as a mea culpa, but it was also a great opportunity for us to chat about assuming positive intent.
ASSUMING POSITIVE INTENT VS. ASSUMING NEGATIVE INTENT
In the scenario above, my intent was to be kind and to make a connection with a stranger. However, the stranger in question could easily assume instead that I was calling her fat, being nosy, making a rude comment, or acting ignorant. There's very little benefit to assuming negative intent, though. Assuming the negative can make us sad, offended, or angry. It can cause unnecessary distance and strife in our personal and professional relationships. By contrast, assuming positive intent has lots of benefits.
BENEFITS OF ASSUMING POSITIVE INTENT
There are tons of benefits to assuming positive intent, both for you and the people around you. I've outlined just a few of them below.
You'll feel happier as you have more positive interactions with people around you
If you are assuming positive intent, you look for the good in the people around you, and you assume that they are trying to act in a way that is kind and fair. When you put that energy out, you can't help but get it back. When I look at the world through my 'positive intent filter' I tend to spend a lot more of the day with a smile on my face, and a lot less time feeling hurt, offended, or angry.
You'll be more likable
People want to surround themselves with others that are positive. Whether you're interacting with your husband, coworkers, or mom friends, you'll start to see positive social benefits as people note how pleasant you are to be around. No, being likable isn't the main goal of our lives, but likable people do tend to have happy family connections, lots of friends, and great relationships with coworkers.
You'll be less distracted by imaginary problems
Have you ever spent a day or more fuming over something, only to find that the drama was only in your head? I have. Whether it's something 'nasty' a friend told me, 'insensitive' my husband said, or 'rude' an acquaintance wrote, I've been guilty of running imaginary dramas through my head for hours. Often, once I've spoken again with the other person, I find I completely misunderstood what they were trying to say and spent a ton of time being upset for no reason.
You'll be able to actually focus on the issues
When you're not distracted by imaginary problems, you can use your limited time and energy to solve real issues that come up. I mean, you probably have some actual drama going on in your life from time to time, right? There's no need to create more.
BUT WHAT ABOUT PEOPLE WHO REALLY DON'T HAVE POSITIVE INTENT?
Yes, I understand that some people really are unkind, ignorant, rude, prejudiced, or just plain nasty. The best part about assuming positive intent, though, is that it doesn't matter if the person you're responding to DID have a negative intention.
Let's face it. Humans can be jerks sometimes. Assuming that they meant the best or at least that they are doing the best they can, though, prevents you from being affected by their shenanigans. When you assume positive intent, you have a little protective suit you wear as insults, criticisms, and nasty words bounce off. You will remain unaffected by:
That person whose political beliefs are opposite to yours, who posts a rant on your Facebook page
A person on the street making an unsolicited comment about your parenting
That lady who cuts you off in traffic
The rude salesperson in the store
I loved this TED Talk where Lynn Carnes talks about how assuming positive intent disarmed a verbal 'attacker' and changed a potentially negative interaction into a positive one.
HOW TO START USING THE POWER OF POSITIVE INTENT IN YOUR LIFE
Listen to what's actually being said and try to understand it.
Don't read between the lines or add your own editorial comments.
Ask for clarification if you need it.
Give the person you're interacting with the benefit of the doubt, and try to see their point of view
Assume that the person has a positive or neutral intention and isn't purposely trying to hurt you.
I've been trying to utilize the steps listed above, and it's made a dramatic difference in the way that I see the world. It has not only improved my interactions with my loved ones, but it's made all of those dozens of irritating interactions that I used to have with people over the course of a week drop dramatically.
The next time an interaction has left you frustrated, try viewing the situation through the filter of assuming positive intent. I'll bet this new outlook will be just as life-changing for you as it's been for me.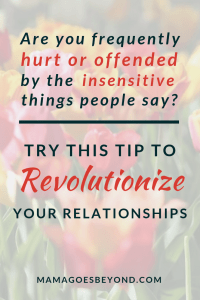 I've got a request: If you liked this post, could you please share it?
Many people don't share because they feel that we bloggers don't need their social share. But the truth is…
I'm building this blog piece by piece: one small share at a time, and one new reader at a time.
A share from you would help a lot with the growth of Mama Goes Beyond.
Here are some sharing suggestions:
– Share it to your favorite Facebook group
– Tweet it
– Pin it!
It will only take a few seconds of your time. The share buttons are just below this box.
Thank you!
Anissa