This post may contain affiliate links. Please read my full disclosure policy here.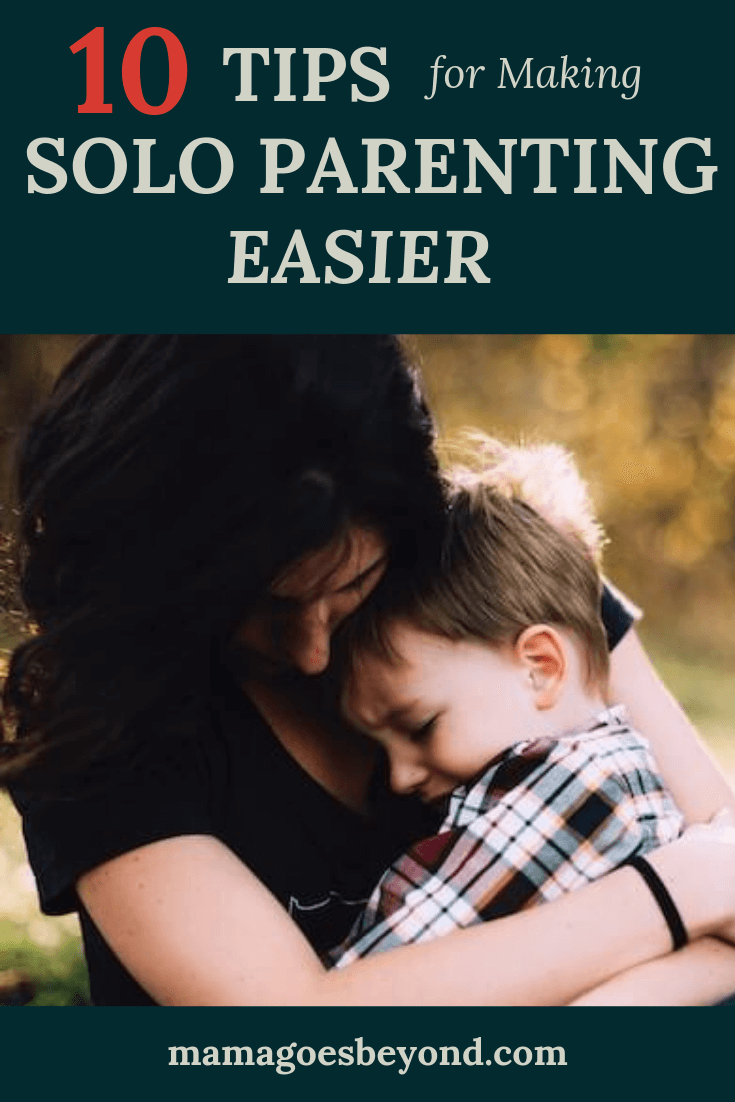 Solo parenting: n. Caring for your children without the day-to-day hands-on help of a partner. Differs from single parenting because you do have a co-parent who can presumably provide emotional and/or financial support from afar and who still needs to stay connected to the family while away.
We just completed our taxes, and while doing the calculations, we discovered my husband had been gone 127 days last year, leaving me to solo parent for many weeks at a time. Some of you are wondering how I did it, while others are saying, "I would love to have a spouse present for 238 days of the year!"
I definitely know that there are people who have it worse–who aren't able to share parenting duties at all–and I am grateful for my 238 days. I have found solo parenting to be trying during the times my husband is gone, though. Behavior problems are often magnified in small kids who can't articulate that they're bummed that Dad isn't home. There is little opportunity for a break from the kids—even in the evenings and on the weekends when parenting duties would normally be shared. Keeping everyone 'connected' is challenging, too, and there's a risk of jealousy and resentment all around.
Over the years, I've developed some strategies for helping things to go more smoothly, and big stints of time on my own with the kids are much less stressful now. Here are my top ten strategies for making solo parenting suck a little less:
Enlist help
We don't live close to any family, and not having a spouse around has often resulted in times when I needed another set of hands. Don't be afraid to ask for help from family, friends, neighbors, or professionals. Once, a neighbor picked up supplies for me and dropped them on my front porch when my 4-year-old was too sick to leave the house with me to get it ourselves. Another neighbor watched my boys for a few minutes when my babysitter overslept and I had an appointment I just couldn't miss. I am grateful for my 'village' all the time, but never more than when my partner is away.
Feeling A Little Overwhelmed, Mama?
Put on your oxygen mask with this free ebook, containing a simple 5-step plan to calm the chaos. You'll also be subscribed to updates from Mama Goes Beyond.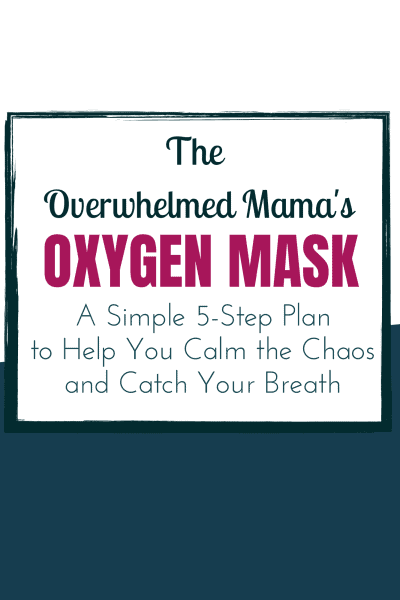 Find a way to communicate as a family regularly
Work schedules, time zone changes, and kid routines can wreak havoc on regular communication, leaving the family feeling disconnected. Snapping and sending a quick picture or writing a brief text can help keep the traveling parent in the loop. A quick FaceTime date to show a LEGO tower that has just been built or to share a chat while eating a bowl of cereal keeps communication low-pressure while keeping the traveling parent in the loop.
Consider investing in a device that allows the kids to communicate with the traveling spouse on their own schedule
We often have trouble with the kids flaking out during FaceTime calls because they occur in the middle of a favorite game, at night when they're overtired, or in the morning when they're still waking up.
To combat the problem of the parents being ready to talk when the kids weren't, we invested in a couple of Toymail talkies. These neat little guys look like stuffed animals, but they hide a little messaging system inside. Using a set of three simple buttons, kids can select a contact (who's been pre-approved by the parent), record a quick message, send the message to the contact, and hear the response.
Learn more about this cute little guy here.
It's been really great for my kids to be able to send an "I love you" when they're lying in bed at night about to fall asleep without having to ask me to write a text, take a picture, or try to get Daddy on the phone. If a FaceTime or phone call has to be abandoned because the kids just aren't into it at that moment, the kids will still have a way to communicate later that day.
Do the things you want to do
When my husband is away, I make the best of the time by doing some of the things I want to do but don't always have time for when he's around. It might be something productive like sorting through toys we need to purge. It could also be something fun like reading a new novel, spending some extra time on my guitar practice, taking a bubble bath, or binge watching a show I know he wouldn't be wild about. Tackling the big things on my to do list gives me a major sense of accomplishment, and saving some little treats for when he is away gives me something to look forward to when he isn't here.
Simplify your meals
When my husband is here, dinners tend to be relatively elaborate, meat-and-potatoes kind of dishes. When my husband is away, dinner might be a simple tuna salad sandwich (he hates tuna and the kids love it) with some cut veggies on the side. Our Friday night pizzas from scratch utilize English muffins and sauce from a jar rather than the homemade sauce and dough I make every week when everyone is home.
Realize you will likely have some extra discipline issues
Kids don't typically know exactly how to express their emotions. "I'm sad Daddy is away" could easily be expressed as "I'm just going to punch my brother in the face", "I intend to sit down here and refuse to put on my shoes until you are so late that you might as well stay home" or "I might color all over the back of your couch."
In short, you might notice more challenging behavior than usual. My friend Mary, who solo parents frequently, has noticed this phenomenon, too. She sends a note to her daughters' teachers when her husband is traveling to warn them that there might be extra discipline issues and ask that the teachers keep her in the loop.
Do your best to give your kids the benefit of the doubt, to make some time for extra snuggles, to let your kids know that you also miss your spouse, and to highlight some of the fun opportunities you have when the other parent is away. You might even plan a special outing from time-to-time for a treat. Bonus points if it's someplace you'd enjoy, too.
Be extra kind to yourself (and to your spouse)
Just like the kids, you're probably feeling sad, lonely, and overwhelmed. Whether you drink a glass of wine, repeat an affirmation, or allow yourself a good cry, think of small ways to be kind to yourself while you're in the trenches.
It's also really easy to get jealous of the person who is away, even if that person is deployed or working insanely-long days. Remember that the person who is away is dealing with issues of fatigue and loneliness, too. (And try not to be too jealous that they can go to the bathroom alone, sleep without a toddler climbing into bed, and eat a meal all by themselves.)
Make extra time with friends
It can sometimes feel tempting to hibernate in your jammies in a chaotic house while your partner is away, but adding in some extra friend time can help everyone feel less lonely, sad, and stressed. When my husband is away, we often invite other families over for dinner and a play date—especially other moms who are parenting solo. It's a great opportunity for the kids to have fun and for the moms to get a little kvetching time.
Make it a party
Does this break in the family routine allow you to do any easy and fun stuff that you wouldn't normally do with your kids? We like to shake things up at mealtimes by having a picnic, eating early to allow time for a board game tournament, or watching a movie during dinner. We'll make bedtime fun by staying up a little later than normal, adding glow sticks to our bath water and bathing in the dark, or having a mom and kids slumber party in the boys' room.
Lower your standards
As a self-confessed perfectionist, this one is tough for me, but it's vitally important. When you don't have a spouse to hand off to, trying to maintain "business as usual" can seem pretty overwhelming. Ideally, you might sweep your floor everyday, only eat organic foods cooked from scratch, and not allow your children near any screens. However, your standards are not more important than your sanity. It's ok to relax your policies for a bit. Realize that everything probably won't get done the way it would if there were two people at home, and that's ok.
So, there are some strategies for rocking solo parenting while your partner is gone. The bad news is that you're all in for another upset when the traveling partner comes back. Re-entry comes with its own set of pitfalls, and I'll give some strategies for dealing with it in a future post.
Do you spend much time solo parenting? If so, do you have any awesome tips that I missed?
Share them in the comments!
I've got a request: If you liked this post, could you please share it?
Many people don't share because they feel that we bloggers don't need their social share. But the truth is…
I'm building this blog piece by piece: one small share at a time, and one new reader at a time.
A share from you would help a lot with the growth of Mama Goes Beyond.
Here are some sharing suggestions:
– Share it to your favorite Facebook group for moms
– Tweet it
– Pin it!
It will only take a few seconds of your time. The share buttons are just below this box.
Thank you!
Anissa