This post may contain affiliate links. Please read my full disclosure policy here.
Do you ever find something wonderful and just want to shout about it from the rooftops?
That's how I feel about Trello.
Since I was a kid I've been a compulsive list-maker, but I could never make my lists work for me. My shopping lists were at home when I was at the store. My to-do lists didn't actually help me get anything done.
In my quest to get organized, I tried paper planners, digital checklists, habit trackers, and reminder apps. When I found Trello, I got rid of all of them.
If you are a mom, you need Trello in your life. Today, I'm going to teach you what it is and how to use it.
What is Trello?
Trello is a digital system that visually organizes all that stuff that you have bouncing around in your head, written on the back of an envelope on the counter in the kitchen, or jotted in the notes app on your phone.
Imagine a giant white board with a bunch of sticky notes on it organized neatly into little columns. You like sticky notes, right? Everybody likes sticky notes.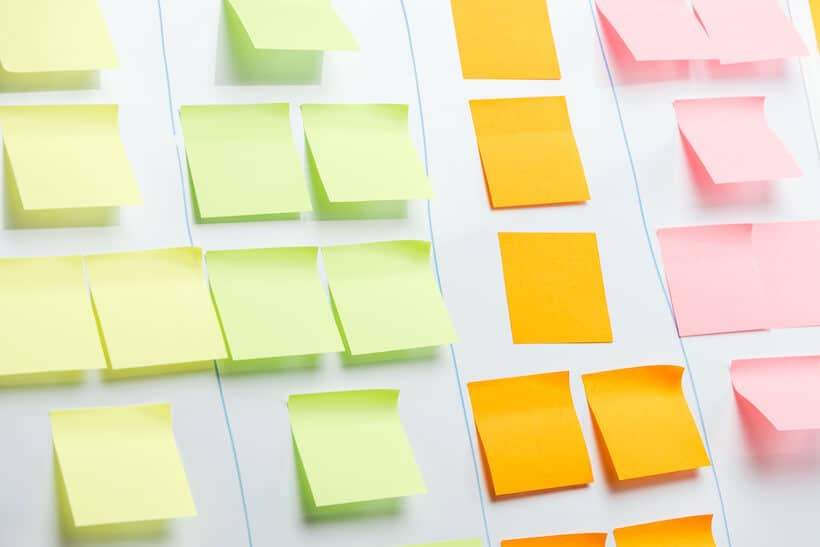 Now imagine:
Each of the sticky notes could have photos, websites, or other links attached to it.
A sticky note could have a due date on it, which automatically popped up on your calendar when you added it.
Any sticky note could have a checklist (or 20) on the back.
Each sticky note was color-coded according to the system you established.
A sticky note could easily be shared if you needed someone's help collaborating on it.
Even if your giant imaginary whiteboard grew to include 5000 sticky notes, by typing a couple of words in a search box, you could quickly locate the one sticky note that you wanted.
Now imagine that this giant whiteboard doesn't just live in your kitchen or office, but is available to access anywhere you needed it—on your computer at home, on your iPad, your Kindle, or your Android phone. Wherever you are, you can look at that whiteboard with all that information.
You can add a new sticky note, or check something off of a checklist. Need to reference a website? Simply click on the attached link you saved earlier. You can see your grocery list, or your kids' shoe size, or the name of that new restaurant you want to try.
Oh, and any update you make immediately syncs, so the list you edited on your phone while you were out matches the one on your computer when you get home.
Also, you don't just need to have just one board. You can have as many boards as you need, all full of their information-packed sticky notes. All traveling with you wherever you go.
That's Trello.
Why Will Trello Change Your Life?
Your head is full of information that is bogging you down.
It's full of all your to-do lists, gift ideas, meal plans, books to read, parties to plan, vacations you're taking next, etc. You might jot this stuff down on a scrap of paper or six, but can you easily find that information when you need it? Probably not.
Having all this information in our heads, and knowing that it isn't being taken care of makes us feel stressed. It contributes to the 'mental load' that many moms feel. It prevents other people from easily being able to help us, because the information is all 'upstairs'. Stuff falls through the cracks despite our good intentions to get things done.
We've tried managing all this info with physical sticky notes, wall calendars, day planners, the backs of envelopes, etc. These paper solutions contribute to the clutter in our homes, purses, and diaper bags, though, and they never seem to be around when we actually need them.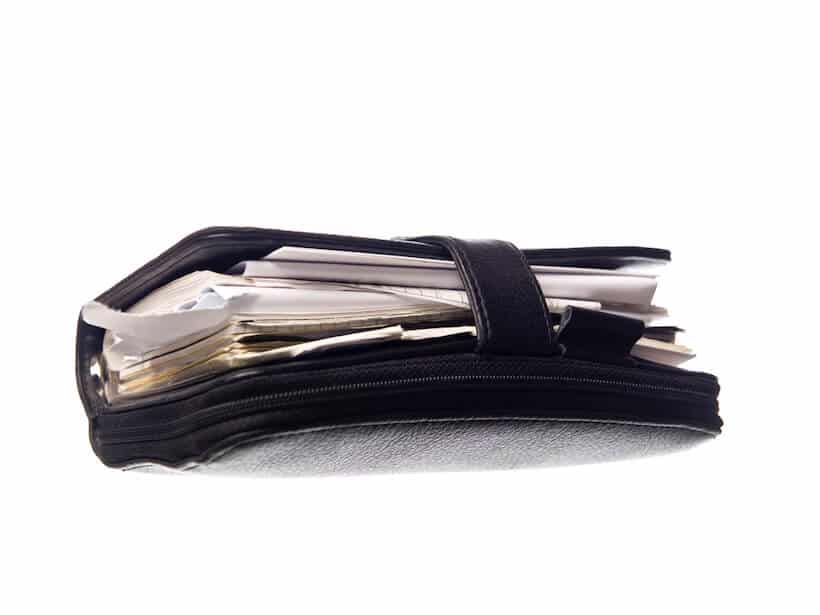 Or, maybe you're like I was and are already trying digital solutions to manage all this stuff. Now you've got notes on your computer, notes on your iPad, notes on your phone, and separate apps to manage things like habits, chores, menu planning, etc.
Why not try something new that might actually work for you—something that will keep all this info accessible for you whenever you need it?
How do you get Trello?
Trello can be accessed via your web browser at trello.com, and is available as a free download from the App Store or Google Play Store.
Click here to get it.
Although you can upgrade your account to Trello Gold for a fee, most moms will be able to do everything they need with the free version.
The first time you access the page, you'll be asked to create an account. You can manually enter an email and password, or you can sign up with Google. Easy peasy.
If you're going to be using Trello on multiple devices, why not take a second now to download the app and login on all of them? That way, you know you'll have it when you need it.
Go ahead. I'll wait.
How do you set up your first board?
As soon as you create your account, you can start creating boards. These boards can be on any topic where you need a little more organization in your life. You'll then add lists on different subtopics, and cards on each list to manage all the tiny details.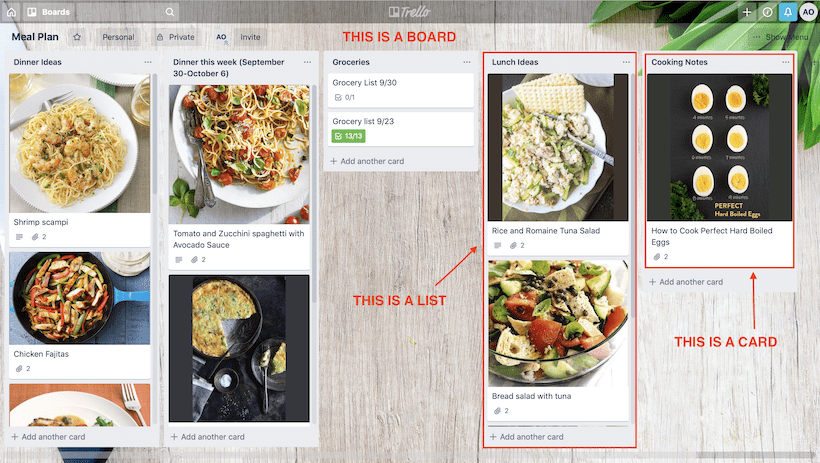 To make your first board, click the plus sign in the upper right hand corner and select "Create Board". Give your board a title, select "Private" (unless you want some random person doing a Google search to find your board), choose a pretty background, and you're all set.
How do you add lists?
Lists are the categories of stuff you're trying to organize. You'll notice in the top left corner of your new board, there's a little box that says "Add a list". Enter the name of your new list there.
How do you create a card?
Once you have your list created, it's time to create your first digital sticky note (aka card). Just click "Add Card" at the bottom of any of your lists and then give your card a title. Now click on it to flip it over to the back.
This is where Trello truly gets magical.
Now you can add a due date for your card, assign it a colored label, add an attachment to the card, add a checklist to the card, tag another person whose help you need with your card, etc. Awesome, right?
Not impressed yet or totally confused? Let's set up a board together.
How do I use Trello?
I've got Trello boards for all of the projects I need to manage. My current favorite boards include:
Get Stuff Done
This is my main board, which holds my daily 'brain dump', my list of things I try to do every day, my giant list of current projects, and my collection of tasks I'm working on 'today', 'tomorrow', 'this week', this month, etc.
Any item that is rattling around in my head—from a movie I want to see to the fact that I need to schedule a mammogram appointment goes on the 'brain dump' list as a safe holding spot until I can move it to one of my other lists to actually schedule it.
Meal Planning
This holds my family's current favorite meals with photos of each and links (if needed) to my online recipe book. I've also got the needed ingredients for each recipe in the description section on the back of each card. Every week, I drag over the meals we'd like to eat to the 'this week' column and copy-paste the ingredients from each meal onto a checklist on my grocery list card.
Spain Bucket List
We're in Spain right now, so I've got all my sightseeing to-dos, nearby towns to visit, and restaurants to try on their own board. Cards are linked to websites with opening hours, ticket prices, driving directions, etc.
How will you use Trello?
As you can see, the possibilities are virtually endless. You can plan your kid's birthday party, organize your home renovation, or get ready for your next family vacation. Imagine how great it will be to never again be stuck somewhere without the notes and checklists that you need.
If you'd like to play around with an established board, I've got a couple that you can copy and edit in the Subscribers Resource Library. Let's get organized!
Got more time to read? You might also like:
Liked this post? Pin it for Later!