This post may contain affiliate links. Please read my full disclosure policy here.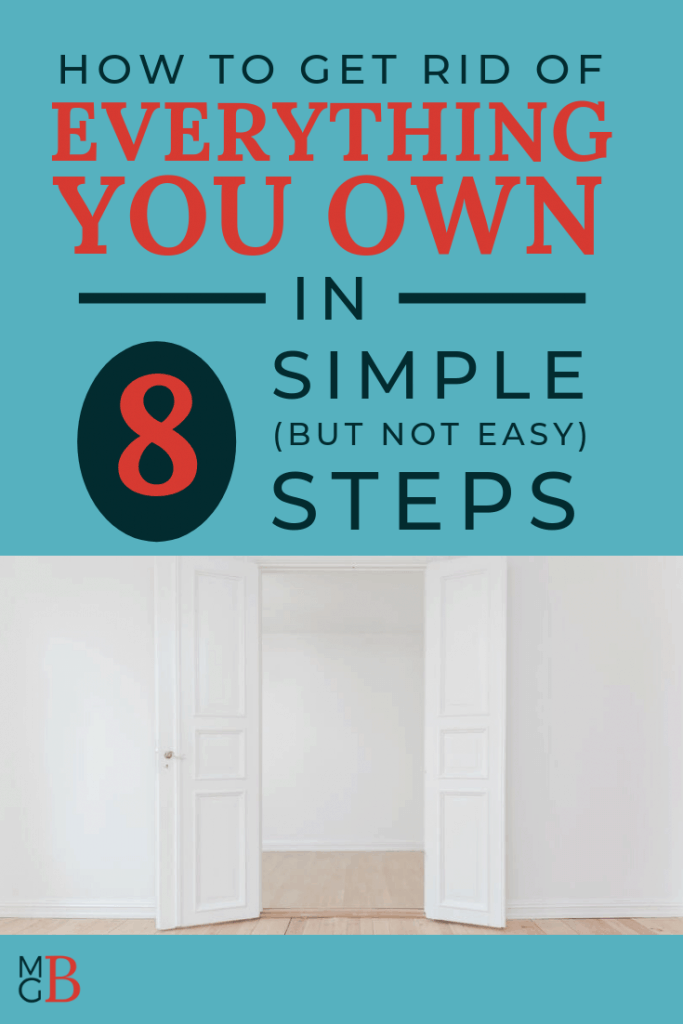 Minimalism and decluttering are hot topics these days as we all look to downsize and simplify our lives. According to the LA Times, the average household has 300,000 items in it, and we could probably all benefit from finding new homes for some of them. Some of us aim to do more than simply declutter or find things that "spark joy", though. Some of us aim to get rid of everything.
In preparation for our switch to a nomadic family lifestyle, we just downsized from a 2,500 square foot townhome to six suitcases/backpacks and eight storage tubs. When starting out on the journey, I found lots of tips for decluttering, but not so many for people, like me, who wanted to radically downsize. What follows here is the guide I wish I had–the steps I followed to get rid of everything we owned.
RELATED: 9 Easy Tips to Help You Declutter Your Kids' Toys
STEP ONE: GET RID OF THE EASY STUFF
Start with these five categories of things as you're looking for things to discard, donate, or sell.
Trash
This one seems obvious, especially to those of us that aim to keep a really tidy home. However, even the cleanest home probably has some items in it that could easily be trashed or recycled. Do you have stacks of papers that need to be shredded, pairs of underwear with holes, or old cosmetics that can no longer be used? The next time you put your hand on an item that no longer provides value to anyone, toss it in the trash.
Seasonal Items
If you're hoping to sell your items, the very best time to do so is when everyone is looking for them. Lightly worn high heels and evening wear might be easily sold around the time your area holds its school dances. Halloween costumes your family will never use again are greatly in demand beginning in late September. Sleds, Christmas decorations, and old winter clothing are all in great demand as the season progresses.
Keep a mental or physical list of some of the items you're trying to downsize, and the season when they'd most likely go. Pick a date once a month to list these items on Craigslist, ebay, Facebook Marketplace, or Nextdoor. If they don't sell by the next month's listing day, donate them to charity.
Items that irk you
These are all the things that make your life worse for owning them—the pair of jeans that makes you feel frumpy whenever you try them on, the kid's toy that makes you cringe every time it plays that song, and the fitness equipment that reminds you you're not working out as gets dusty in the corner. If you've got stuff in your home that makes you feel bad, let it go.
Duplicates
Do you have 50 T-shirts, 30 coffee mugs, or 1,000 ballpoint pens? Remember that you have two hands and that there are only seven days in a week. Your surplus could really help someone else out.
Items that you've outgrown
This one is always really obvious when I'm cleaning out my kids' stuff, but much less obvious (and a little sad sometimes) when I'm purging my own things. This category includes not only the clothes that physically don't fit anymore (and I promise when you lose the weight you'll prefer to get something new and stylish) but also the items that no longer fit your lifestyle.
Maybe you're a SAHM with a closet full of business suits and no plans to go back to work. Maybe you brewed your own beer for awhile, but now you aren't ingesting carbs, and all that equipment is gathering dust in your garage. Maybe your children have all moved out, but you still have all of their childhood toys in the basement. Whether it is clothing that fit an old body type, stuff associated with an old hobby, or relics from a different stage of life, your old stuff is keeping you bogged down in the past and preventing you from filling your home and your life with things that would serve you better. Let it go.
THINGS TO KEEP IN MIND AS YOU GET RID OF EVERYTHING
REMEMBER SUNK COST
One of the most important things to keep in mind when you're getting rid of things is the fact that the money you've invested in the item in question is a sunk cost. Whether you wore the shirt 100 times, or whether it hung in your closet with the tags on it, the money has already been spent and can not necessarily be recovered.
Just because that item cost you a lot of money or "still has a lot of good left in it" it doesn't mean that you will get your money back. Although we've all heard stories of finds from someone's attic going for millions of dollars, your stuff is likely not worth what you paid for it, even if it is brand new. Remembering sunk cost will help you both manage expectations and hopefully make smarter purchasing decisions in the future.
KEEP ITEMS 'JUST FOR WHEN' INSTEAD OF 'JUST IN CASE'
I first heard of the idea of "just for when" vs. "just in case" items from The Minimalists. The idea is that we very often keep items that we are extremely unlikely to ever use again because we're afraid we might need them someday. Our closets and basements fill up with things we have no intention of ever using because we can't bring ourselves to let them go. Make sure that the items you are keeping have a definite place in your future and keep them "just for when" rather than "just in case".
UNDERSTAND THAT IT WILL BE EMOTIONAL
Depending on how radically you are downsizing, you may end up getting rid of things that you love. You are bound to dredge up lots of memories, both good and bad as you dig through things. You might feel anger, regret, or shame when confronted with the massive amount of things you own. It's ok to have a good cry while you're going through the process. Remember that feeling a bit sad about losing a particular item doesn't necessarily mean that you need to keep it.
STEP 2: GET SPECIALTY STUFF TO THE RIGHT PEOPLE
Is there a subset of people who might really be able to use your things? It sounds simplistic, but make sure you get your goods in front of them. My collection of opera sheet music would provide little value to most of the population, and as a result would likely languish unsold in lots of circumstances. When I compiled the list of scores into a spreadsheet, though, and posted it in Facebook forums for classical singers and professional voice teachers, I made hundreds of dollars and helped a population that really needed what I had to sell.
STEP 3: UTILIZE NICHE WEBSITES AND STORES
There are lots of clearing houses for used goods that will let you ship your stuff (or bring it in to a storefront in person) and will give you cash for it. Although you will not get as high a price as you would selling each item individually, you can't beat the convenience. Here are some services I used:
GameStop
GameStop takes old computer games and gaming machines in good condition. We had an old Wii and a PS4 along with a few games that I was able to sell. The whole process took maybe 20 minutes and netted me about $50. Payout would have been double if I had accepted a store credit instead of cash. I loved not having to research/photograph/list items for sale, and I loved that the electronic waste didn't end up in a landfill.
Decluttr/Second Spin:
Although we only seem to listen to streaming music (on Spotify) and to watch streaming TV these days, we still had dozens of old DVDS and CDs stashed in closets around the house. Decluttr made the process of getting rid of them incredibly easy. I used their app to scan the bar codes of my old media, and the price they were willing to pay for each item popped up.
Although Second Spin's interface was slightly less easy (I had to type in the UPC) they sometimes paid more than Decluttr for a particular item. If you are pressed for time, I'd just use Decluttr. If you are wanting the biggest payout, I'd search both.
With both companies, I boxed up the titles I wanted to sell them, printed out the shipping label they sent me, and took the box to the post office. Within a few days, money for the DVDs and CDs was in my PayPal account, along with shipping reimbursement. Like GameStop, I didn't receive a ton of money for each individual item, but the time savings was definitely worth it.
RELATED: What to Do When Housework Feels Overwhelming
STEP 4: UTILIZE KID SALES AND CONSIGNMENT SHOPS
Kid items can be some of the easiest things to get rid of as there are always new parents looking for affordable stuff.
In my area, we have several kids consignment sales that happen at various times throughout the year. Although the coordinators of the sale keep a portion of the profits, sellers have he benefit of getting ALL of their baby and kid stuff out of the house at once. Also, sellers can be be assured that their baby monitor, travel potty, or crib mobile will be displayed in front of people who are specifically coming to shop for discount baby and kid things, and the item is much more likely to sell.
I also took some very lightly used adult clothing and housewares to a consignment shop in my area that accepted those items and made a few extra dollars.
STEP 5: CONTINUE TO USE ONLINE MARKETPLACES
As I mentioned in the "Get Rid of the Easy Stuff" section, there are all sorts virtual garage sale sites, such as Craigslist, Facebook Marketplace, ebay, Nextdoor, and Let Go.
Be aware that photographing each item, researching its value, describing its features in the listing, and communicating with buyers is very time consuming. You might want to save this step for items of a fairly high value. I listed lots of $10-$15 items and was very burnt out by the end of the process.
Another option is to list items in lots—an entire collection of Hot Wheels tracks, women's clothing in the same size, or kitchen utensils available for one price. This is a great way to list smaller items that doesn't waste too much of your time.
Make sure that you do your best to stay safe while selling online. This article from Reader's Digest has some great ideas to keep in mind.
STEP 6: HAVE A GARAGE SALE
Because our house sold much more quickly than expected, we actually ran out of time for this step. Garage sales are a great opportunity to get a little bit of money for your bits and bobs rather than just giving them away, though. I loved reading this guide to hosting a successful one.
STEP 7: DONATE WITH AN OPEN HEART
We gave away many of our most beloved items to family and friends. We donated carloads of items to charities is our area. We also offered items for free on the Facebook Marketplace when they weren't selling. Even though it felt a little bit hard to simply give away items we'd invested hard-earned money in, it felt good to know that we were helping people.
STEP 8: TRASH/RECYCLE WITHOUT GUILT
In the end, you are going to still have a few items that you haven't gotten rid of. We had pieces of upholstered furniture that couldn't be donated, old electronics nobody wanted, and bags of hangers that I couldn't give away even when I offered them for free on my front porch. It was very hard to take these items to the dump/recycling center. I reminded myself that I'd gotten good use out of them, I'd done my best to find a new home for them, and I'd make the best purchasing decisions I could in the future.
So there you go–the eight steps we used to get rid of a house full of items. The process was definitely not easy, but now that it's done, we feel lighter.
What did we keep?
a few of our sons' favorite toys, stashed at their grandparents' houses for fun when we visit
our favorite kitchen items, stored in two tubs
one tub of winter clothing for each family member (we'll spend most of the year in warm weather locales)
one tub of Christmas decorations (personalized tree skirt, handmade/personalized ornaments, etc.)
one tub of family keepsakes (special art, photos, and one-of-a-kind items)
Have you attempted to get rid of everything in your home?
Tell us about it in the comments!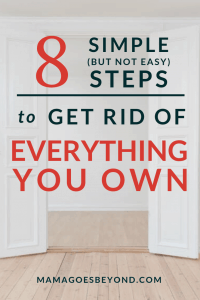 I've got a request: If you liked this post, could you please share it?
Many people don't share because they feel that we bloggers don't need their social share. But the truth is…
I'm building this blog piece by piece: one small share at a time, and one new reader at a time.
A share from you would help a lot with the growth of Mama Goes Beyond.
Here are some sharing suggestions:
– Share it to your favorite Facebook group for moms
– Tweet it
– Pin it!
It will only take a few seconds of your time. The share buttons are just below this box.
Thank you!
Anissa